Performance, professional design, durability and light-weight comes together in the new Angel Custom CNCAluminum Mock mock silencer series. The Angel Bio-Hazard series is designed to fit sniper rifles with a larger diameter outer barrel (VSR-10, APS2, Type96, M700....ect) with it's integrated inner 14mm- thread while the included adapter allows it to fit virtually most of the Airsoft rifles with a 14mm thread.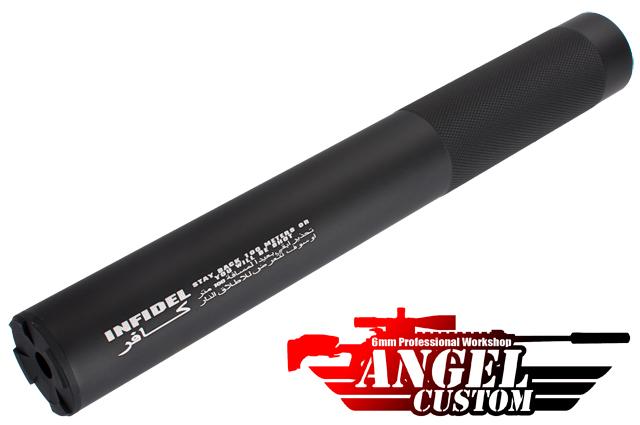 Angel Custom mock mock silencers are the perfect medium for your AEG, GBB or Bolt Action Sniper rifle to take on a much longer Angel Custom inner barrel for the unfair advantage you seek. The integrated "embedded" 14mm- adapter allows this mock mock silencer to hid a portion of the outer barrel for a unique new look. Every Angel Custom Bio-Hazard Mock mock silencer is also equipped with a bio-hazard striker front-cap for an aggressive new look. CNC Milled processing on Aircraft grade Aluminum provides maximum durability at the lightest possible weight. System comes complete with adapters fitting both 14mm- and 14mm+ threading. Detaches and attach in seconds. Perfect exterior finish with nicely engraved laser markings. With 4 different lengths to choose from, you can outfit your gun to your liking!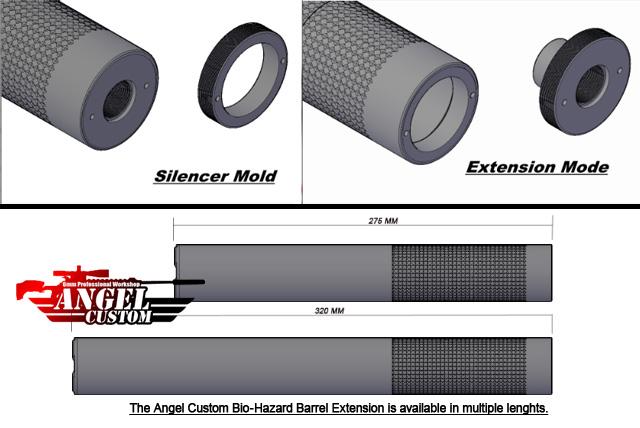 To find out complete specifications, click here to view the new line of mock mock suppressors by Angel Custom.
Click here if you want to watch Matt talk about the mock mock suppressors.